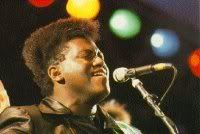 Jacksonville, Florida
Let's start with a little look back down memory lane, with Randy in supa-dupa 80's hair when he was with Journey, because it is Jackson-ville, you know!
Joshua Ulloa
(
22, Beverly Hills, FL
) He's proud to be compared to Justin Guarini. Don't know why anyone would be happy to look like Guarini. He sang Marvin Gaye and didn't do a bad job of it, including vocal trumpet sounds. He was trying just a bit - no, make that a lot - too hard, and I don't know if I love his tone, but he's got a voice in there somewhere. Simon compared it to Inspector Gadget. Randy said at least he was entertaining. He is through, in a unanamous vote.
Sharon Wilber
(
25, Jacksonville
) She brought her little dog, and Simon held the dog (he likes little dogs). There were some points that I liked her voice, but she had some mannerisms that I really didn't like. Kara called her on doing the "baby baby" a little like Britney-like. Paula faked making out with Kara, for no particular reason, and Sharon is through. I want to see her own style.
While Ryan lost his way in a golf cart, a terrible girl (missed her name, didn't want to torture myself by rewinding) murdered a Chaka Khan song.
Kaneswa Finnie
(
16, Jacksonville
) She is really confident, and her mom thinks she is amazing. Thing is, the girl can't carry a tune in a bucket, and her voice is so distractingly nasal, I couldn't even hear the notes properly. She argued with Simon, and said her mom thinks she's great. They sent her mom in for some tough love. Her mom attested that "she sings all around Jacksonville," which doesn't mean much. A dog can sing all around a town, and that doesn't make them good.
Jullisa Veloz
(
19, Orlando
) She's a beauty queen, and I wish she hadn't worn the crown and sash, because the girl's got a really decent voice, but the beauty queen stuff is distracting. Simon doesn't like her laugh, which is rather strange. Paula was talked over and walked out. Jullisa urged her back in the room, and for that, I like Jullisa. She is through.
Darrin Darnell
(
missed his age and hometown
) He's all full of energy, and entertained people in the holding room. He made friends with someone in the auditions, who got cut, which brough Darrin down a lot. He's all shaken up trying to sing
It's So Hard to Say Goodbye
, but I don't think his emotions are to blame for his wretched voice. It's truly painful. He needs to go be an MC someplace, and needs to stop singing. Kara wisely told him that if he can't handle this audition, then the music industry is no place for him.
Naomi Sykes
(
25, Tampa
) She brought a friend in, who is Randy's Superfan, and she got to have a hug from Randy, and then sat on Randy's lap for the audition. Paula sat on Simon's lap, and then Ryan came in and joined Kara. For no particular reason. Unfortunately, Naomi is absolutely dreadful and has no musicality to speak, and the only notes she hit were the painfully high ones in Loving You. (Yes, the song that makes dogs across the nation come to attention)
9 people went through on Day 1. What will Day 2 bring?
Jasmine Murray
(
16, Stockville, Mississipi
) She is the baby of a family with 3 sisters and a brother. She is pretty, that's for sure. She's got a very froggy nasal voice, the kind of voice that bugs me, but she hit all the notes well. Simon called her cute, commercial, with a very nice voice. Paula also loved her voice, and so did Randy and Kara. She's through. Why do these judges love nasal voices? Seriously, I do not understand it.
George Ramirez
(
18, Jacksonville
) He's a physics student, and is going for the geek factor with a scary beard. Without the beard, he wouldn't be quite so odd. Simon asked him where he sees himself in 10 years, and he said he wants a simple house with marble floors. I hope he gets that dream, but he's not getting it through song. He's horrible. Just horrible. Simon asked him if he's ever auditioned or sang in public before, and he said, no just with friends. He's back to the physics books.
Ann Marie Boscovitch
(
23, Nashville
) She sang a bit of a song from Kara, from a concert she went to. She's starstruck by Kara. (And she had an amazing voice!) She was sent back out to go back in as another person - this time as a star. I will come back to her. And coming back, I totally love her. She's got a very natural voice and she's beautiful. Can I just say, I love her hair? I'm a long hair fan, so I really love her beautiful long brown locks.
TK Hash
(
23, Concord, NC
) He sang Imagine, and he's got a really beautiful, pure voice. He went a little over the top, the judges thought, on too many runs. Simon voted no on him, but the others all voted yes, so he's through. I'm glad (and I agree with the judges on too many runs).
Michael Perelli
(
18, Orlando
) He's a boy with his guitar, and he was not happy that he wouldn't be able to bring his guitar in with him to the audition. He freaked out entirely about not being able to bring the guitar. He still brought his guitar into the room, and placed in in front of him when he sang. He had a decent voice, and Kara even said he could be much better with his guitar. Simon told him to go get a job and put a band together in his spare time. He annoyed the judges, and he's out.
My favorite of the night was
Ann Marie
, hands down. How about you?
And we are out with a medley of Walking on Sunshine. Can't nobody bring down Katrina and the Waves.