Before the final runway show, the remaining designers (
Kenley,
Leanne
, and
Korto
, in case you missed it) are told that they will be showing 10 looks, out of their 12, so they have to edit out two looks. They have model casting, and I think I saw one of the finalists from
Make me a Supermodel
- Shannon? They commented on her height. Was I dreaming?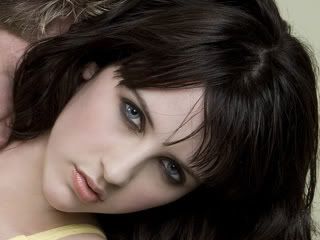 Tim came in to check out the collections, and
Kenley
got defensive and pissy about the superfluous rope in her collection, and when Tim questioned her sending her wedding dress down on her signature model, because the judges thought it was a lot like Alexander McQueen, she basically yelled at him. In the end, she decided to put the wedding dress on a different models, which then won't be seen back at Parsons.
Korto
decided to take out her wedding dress, and made the questionable decision to whip up two more pieces for her line at the last moments.
Leanne
was trying to finish some pants, and had a hard time editing out pieces.
They meet with the make-up artists, and then head over to fit their models.
Kenley
o' the crazy 80's patterns whined that
Leanne
can't use color.
Leanne
in turn says that
Kenley
's looks like a child painted on it - and I agree. Of course, these snarks were said in confessionals.
More model fittings, and can I just say that one of
Leanne
's models (a blonde) looked like she was made of wire and nothing else. So skinny it was sickening. Just wanted to say that. One of
Leanne
's models showed up with a dog, who immediately pooped on the floor. Ugg. Leave. the. dog. at. home.
Tim arrived for another chat, and announced that
Kenley
will be showing first the next day, followed by
Korto
, and rounded out by
Leanne
. Everyone got a lovely Tim hug. Early early the next morning (I think I saw 3 AM on an alarm clock), the three designers got ready for their show. I am so annoyed with
Kenley
's voice, and when she cries, it is even worse. I am looking forward to not hearing her again after tonight.
Korto
is still sewing, and
Kenley
isn't letting her assistants touch her fabric, because "they don't know how to iron painted fabric." It may be true, but she was so bitchy. Problem with one of
Leanne
's tops, which somehow sunk into itself. Weird. She switched the model's look, and had to use some double stick tape to keep it up. Good luck to her.
I have to comment on the leaves sticking out of
Kenley
's head. No, honey. Just no.
Heidi introduces the judges, joined by Tim in leau of Jennifer Lopez - who was said to have a foot injury. Backstage,
Kenley
is nervous with Tim as a judge, saying "maybe I should have improved my attitude." Maybe? Bank on it, honey.
Kenley
is up first. She whined about her inspiration, and her collection entered the runway.
Dress 1
: Interesting. The skirt was neat, the shape was weird, and the painting was nice.
Dress 2
: Straight out of
Dynasty
, and not in a good way.
Dress 3:
This thing looked mismatched with itself, kind of like a fabric tumor had grown on the dress' hip, and the poor model was saddled with the same leaves sprouting from her scalp as
Kenley
.
Dress 4:
The bridesmaid dress, still lovely.
Dress 5
: This thing I did not like - a giant floofy black skirt with a red top that looked drawfed by it. Didn't like that one.
Dress 6:
A black dress that was actually quite nice, with some cute detailing and enough to make it different. Kind of feathery at the collar and the hem? Interesting.
Dress 7
: A sweet cream dress with some really lovely painting, and I appreciated it. The sillouette was nice, with an Asian looking collar. Kind of a 50's inspired (surprise surprise) shirt dress. I likey.
Dress 8
: This is the hand painted couch fabric with giant poofy shoulders, and I hated it.
Dress 9:
The top that looked like it was about to swallow the model whole. The skirt was nice, but the top looked like a ruff. Nearly Elizabethan. Not in a good way.
Dress 10
: The wedding dress - still lovely.
I think my favorite in the collection was absolutely the cream dress, and the black dress. The whole thing didn't look cohesive at all. It looked like she put together a bunch of clothes that she wanted her Barbie to wear, with no thought about them connecting in any way.
Korto'
s collection was next.
Dress 1
: Lovely, with a beautiful color and nice draping. A long lean dress.
Dress 2
:
Korto
is fond of fabric that just looks wrinkled and messy. The arms were big and puffy and I didn't care for them.
Dress 3
: A nice bright grassy green, and again the sleeves were weird in my opinion.
Outfit 4:
A pant suit. I can't abide by pantsuits.
Dress 5:
Really cute and flouncy in a wonderful pattern that fit well with the rest of the collection thus far. The belt on it was wonderful.
Dress 6
: A long dress in a tan that was much nicer. The fabric was not rumpled looking, so I give it thumbs up. I think this was one of her last minute designs, and I appreciate it.
Dress 7:
A green dress that was also belted and short and cute.
Dress 8:
I wish this had been her wedding dress. It was white or just off white and had some beautiful detailing and the work was nice.
Dress 9:
A bright yellow dress came next, in the same kind of flouncy shape. I like it. The back detailing was nice.
Dress 10:
An evening gown in grassy green with an astonishing slit and some nicely done Korto signature beadwork, featuring a beautiful back.
The collection went together quite well, and while I didn't love every piece, it was cohesive. My favorite piece was probably the first dress, or the dress I thought should have been the wedding dress. That was just lovely.
Finally, it comes to
Leanne
.
Look 1
: A skirt with that neat wave pattern that she is using throughout the collection, with a top that has an oversized collar. Not sure how to describe it, but she is fond of it. This is the top that magically grew between fittings. It's an interesting look. The skirt is more my style.
Look 2:
The top is the aqua color, and the bottom is cream. The skirt is kind of bulbous, but I like the top, which had more of the collection's signature waves.
Look 3:
Here's the pants and the top that she contemplated pulling. It looks almost sci-fi. The pants are high waisted but still flattering, and the top looks like something an alien on Star Trek would have worn, with the sides cut out. Interesting.
Look 4:
The next look seems to be almost pirate-wenchy. I love the way the wavey detailing moves.
Look 5:
Like the waves they were inspired by, these pieces just flow into one another with seemingly no effort. This look seemed to echo the piece before it, but in a slightly different way. Hard to even explain.
Look 6:
This dress came on a very unconvinced looking model, with another Elizabethan-esque collar. I don't get it.
Look 7:
Just beautiful. I think it was the bridesmaid dress. Not sure. The colors and the detailing just flowed so nicely, it was very beautiful.
Look 8:
This echoed the previous dress, with a little more color.
Look 9:
The evening gown that she had to tape onto her model came next and I really loved it. The color was gorgeous, the slit was sky-high, and it moved fantastically. I hope that the last minute alterations on it don't hurt her.
Look 10:
The wedding dress. I am still in love with it. Pockets, for heavens sake! What bride wouldn't want hidden pockets?
The whole collection really goes wonderfully together, and I definitely feel sand, beach, and waves. I love the blue gown and the wedding gown, but there were a couple other nice things in there.
I am left undecided, but if I had to go for something that is most innovative, I would go for
Leanne
.
I didn't notice Shannon on the Runway. Was she there?
Back at Parsons, the judges met with the designers.
Kenley
got her critique first. Michael was impressed by her painting. Nina mentioned that another dress (the hand painted couch dress) looked like something in another collection.
Kenley
got pissy at them and said that maybe she needs to start looking at other collections, because as Michael told her, it is really important to know what is going on before sending your own stuff down the runway. I am a little appalled that the dress that looked like a bad Barbie reject was actually like something else that another designer sent down a runway... oh well. She also chose to bring the giant poofy skirt with a small red top to the judges on the runway.
Korto
's collection got high praise, but some of her pieces got criticized for looking a bit overworked. I would agree with that. Tim really loved the taupe dress that I was not fond of, and I can see his point, but I still don't like it.
Leanne
's first look got high praise, and she admitted that the garment was oversteamed and got floppy and bigger, and they appreciated that she was able to roll with it. Tim really liked the sci-fi pants with the vest. They appreciated the versatility of her collection -
Leanne
had shorts in her collection and I didn't see it. There was some concern that she had a few too many waves - or petals as they called them. Half of her collection was "sustainable textiles," and I appreciate that.
When asked why they deserve it,
Korto
and
Leanne
were nice and passionate, and
Kenley
broke down in whiney tears. Ugh.
To me, it could go to either
Korto
or
Leanne
. I don't want
Kenley
to win.
In deliberations, the judges claim that there was cohesion in
Kenley
's line. I didn't see it. Tim said that she needs to take a fashion history course. Agreed. They appreciated the elegant sophistication of
Leanne
's, and they liked her sustainable fabric. They worried that she could become one-note. They loved
Korto
's designs and her ability to dress many sizes, and loved her ideas.
Who is going to win???
It's not going to be
Kenley
. She was the first dismissed, swiftly
aufed
. Buh-bye.
I think most deservedly,
Leanne
is the winner. I think that her shear innovation without looking contrived make her deserve her win.
Korto
's collection was great, but I think that she will also go far.
Now maybe
Leanne
can get some deep conditioning for her hair. It's been bothering me. I'm very happy and pleased for her.