Oh,
Top Chef,
how I have missed you. I love to cook, I love Reality TV, this show is near and dear to my heart.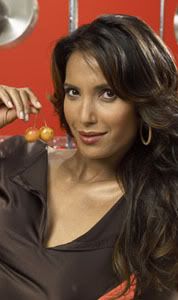 I wonder if the two chefs who are a couple will have an advantage, or be hindered? We'll see. It always takes me a while to learn the names on a show like this, because everyone is thrown at you so quickly.. I'll get them eventually.
The first
Quick Fire Challenge
was cool. Sometimes the problem with the first challenge like this is people trying to show everything they can do in one dish. I think the funniest thing was the girl from NYC, Nikki, who said she had a "problem with deep dish". She sure did, as she ended up in the bottom. I wonder if the two chefs who are a couple will have an advantage, or be hindered? We'll see. I think at this point, it doesn't really matter, but if they get to challenges where they are working together, that could be where it might come into play, because I assume they'd work well together.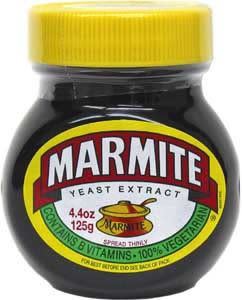 I like New Zealand boy, but it could just be his accent I am drawn to. And he made
Marmite
into something yummy (I assume, the judges liked it). I do not understand half of what Yellow Shirt in Confessionals Boy (Andrew) said (in his confessionals). Could have been all the bleeping bleeps.
Elimination Challenge
Oooh
, a head to head? That's crazy. It's so hard when you don't really know anyone.
I have to give it to Nikki making her own fresh lasagna noodles. That impresses me. How Andrew could be a chef and not know how to make mayonnaise, I'm not sure, but after Mr.
Spikey
Hair told him the ingredients, he whipped some up, that's pretty cool. Then, when Mr.
Spikey
Hair pulled out the little smoker gadget, that was pretty nifty. I love
kitchen gadgets
.
Mark (Mr. New Zealand) and Stephanie's Duck a
l'orange
dishes both looked genius. I can see the judges preference for Stephanie's dish.
Andrew talks too much. Richard's smoking was really neat in presentation. Shock and Awe. I'll say.
Jennifer's lasagna with mint
verde
was interesting sounding. Nikki's with Sheep's Milk Gouda, that sounds good. Jennifer flubbed with undercooked rutabaga. I'm glad that Nikki won the show down.
Antonia won hands down next to
Nimma
, who
oversalted
. The cauliflower scramble was totally unappetizing to me.
Spike vs. Lisa. God, I love Eggs Benedict. I want it now. I've had Lobster Benedict once, and it was totally delicious.
Dale and Manuel made Steak
au
Poivre
, and Dale won that one. He took more chances and did well with those chances.
Ryan and Valerie's Chicken
Piccatas
were disasters. I think that was a tough one, it's not necessarily something everyone would be familiar with. I'm thinking
capers
. I think that Valerie's had capers.
Erik and
Zoi's
souffles couldn't have been more different from each other. And they couldn't have been farther away from souffle. Oops. The judges were forgiving about the lack of
souffleness
. That was nice. I wanted to eat both of them, one right after the other, souffle or not, I hope that they are both safe.
Who's going to be the winner this week? It's between Antonia, Nikki, Richard, and Stephanie. The judges have traditionally liked the off the beaten path chefs (like last season's Hung), but Stephanie takes this one for her Duck a
l'orange
. It was a beautiful dish, and she's cute as a button. I'm happy for her.
The bottom tier is Ryan, Erik,
Nimma
, and Mark. I'm sad that Erik was in the bottom, because his (not so souffle) souffle was yummy looking. I guess it was stupid to dump stuff on top of a souffle.
Nimma
knowingly sent out
oversalted
shrimp and flubbed on the flan. Mark was at a disadvantage because of his deconstructed duck dish, they said it was "silly and pretentious," but they've like Silly and Pretentious before (Marcel). I think that Ryan's attempt at
piccata
looked painfully non-
piccataish
. I'm no expert, though.
At the judges table, they were really cruel about Ryan ("His
gnocchi
was not the only thing that was dense"). I'm overall very happy to see
Nimma
gone, she struck me as really high on herself and annoying.
Onward to next week! Let's hear it for Top Chef!! The season looks intense. I saw some
didgeridoo
goodness from Mark in the previews. I love a good didgeridoo.