After last night's suck fest, I wouldn't be surprised with anyone's ouster. I hope beyond hope that
David Cook
is safe, because he is the only one I can bring myself to care much about anymore. I didn't realize just how much I liked
Michael Johns
until he was gone. *sigh*
Starting out, we are treated (and I use that term loosely, very loosely) to a Group Sing featuring
One Sweet Day
. Please make it stop. You know what a sweet day will be? Tomorrow. When I never have to listen to another Mariah Carey song.
Jason
starts it out shaky and earnest, and then
Kristy Lee
takes over in a screechy solo.
David Cook
looks slightly embarrassed at having to sing this. The Top 7 are still bad at choreography that doesn't involve standing in formation and gesturing oddly, then marching to a new formation. There was a terrible attempt at a duet by
David Cook
and
Syesha
, where she ran off on a trilling run and seemed to lose the harmony completely.
David Archuleta
looked pleased, this is just the kind of boring stuff he dreams of recording someday.
I'm going to have to check out the
song writing competition
's finalists. It has to be better than last year's horrid offering of
This is My Now
. And look, they've brought one of the co-writers of that crap to the show tonight. I bet the other guy has realized his awful mistake and is somewhere shoving a butter knife in his ear.
Recap of last night, with
Brooke
pouting backstage at Simon's critique, because she didn't feel like she got enough pouting in last night. I really wish that
David Cook
had just sung his song in a slightly higher key, it would have been so much better, and I don't know why no one else has mentioned that it was too low for him!
There is a new twist in camera work, with the finalists backstage while Ryan,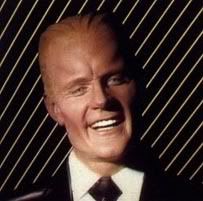 Max Headroom style, calls them out one by one via the monitor. That's weird.
The Couch of Comfort and the Stools of Sorrow are gone, and we are back to the two groups on either side of the stage. Because there are seven left, I predict Ryan is going to put them in two groups of three and have the final person choose between the two groups. He loves to do that. It's always awkward.
Jason
goes into one group, and
David Cook
is dispatched to the other.
Carly'
s style has reverted to 1983, apparently, and she also accuses Simon of being too hard on her. I don't know if that is smart. She joins
Jason
. Next is
Kristy Lee
, who calls Simon "a butt at times." She joins
David Cook
.
Ford Commerical time, and I actually kind of like
David Archuleta
's hair all slicked down. Not so much
David Cook
's. Captain Combover needs a bit of volume.
Now, it's time for Elliot Yamin and his New Teeth. Paula liked him. I didn't love it, but it was better than anything we heard last night. Sadly, Elliot's mother, who was always in the audience during his season, passed away this week. Now, that's just sad.
But let's not let the sadness get us down, it's time for more results!
Syesha
is in the group with
Jason
and
Carly
.
Brooke
is out next, and she is grouped with
David Cook
and
Kristy Lee
and tries to sway the vegetarian vote by taking Simon's comment that she was like a meatless hamburger as a compliment. Somehow I don't think Simon meant it that way.
David Archuleta
is alone back stage, with no group. My dream is that Ryan comes back from break and announces that
David A
. is gone, no need for the groups.
I'd forgotten the only bearable thing about last week's results show was the lack of Viewer Call ins. Guess they are back in full swing this week. We find out the
Kristy Lee
is not getting her favorite horse, the one she sold to come to the show, back. We learn what records the judges first bought, and Simon actually had a little zinger picking on Paula. Then, a called claims to be "the Megan from Paula's Show," and Paula obviously has no idea what she is talking about, and then she insults Simon using several of her own song titles. And
David Cook
is single. My goodness, can someone make this stop already?????
To add insult to injury, it's time for Mariah Carey to sing. I fast forwarded as much as I could, but then I caught up to live tv and had to hear her. Why do people buy this crap? I think one of the backup singers was trying to out sing Mariah, and there was some strange squeaking going on. I think this is worse than almost anything we heard last night. Mariah thinks so much of herself, it's sickening.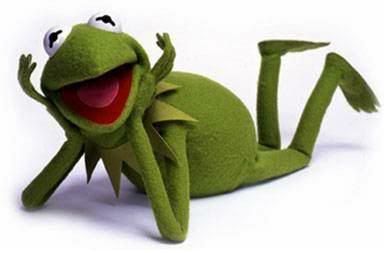 Back to the business at hand. Here comes
David A
to find out which group his is in. Kermit the Frog is safe for another week, but which group does he belong to? First,
David Cook
and
Syesha
are switched in their groups. Here comes the inevitable "Choose your Group," and
David A
. sat down in the middle of the stage, and then Ryan tries to get him to go to the group with
David Cook
,
Carly
, and
Jason.
When that fails,
David Cook
sits down next to him.
Bottom 3 is
Brooke
,
Syesha
, and
Kristy Lee
. That's about right.
Syesha
is sent to safety first, and
Brooke
is safe to warble and pout another week.
Kristy Lee Cook
is out, after weeks in the bottom. She at least has a good attitude about it. Ryan begs the man who bought her horse to return it. She is celebrated home, and I hate this song more and more every time I hear it.
Kristy
sings her boot off performance to Simon, which is cute.
Next week is Andrew Lloyd Webber Week. I predict
David Archuleta
will sing
Memory
from Cats. I wonder if anyone will sing
On My Own
from
Wishing He Were Somehow Here Again
? I bet that
Brooke
will sing
Don't Cry for me, Argentina
, and start bawling in the middle of it. And I would love to hear
David Cook
sing
Heaven on Their Minds
from Jesus Christ, Superstar. Still, Andrew Lloyd Webber is so much better than Mariah Carey, I cannot even put it into words.
Until next week.