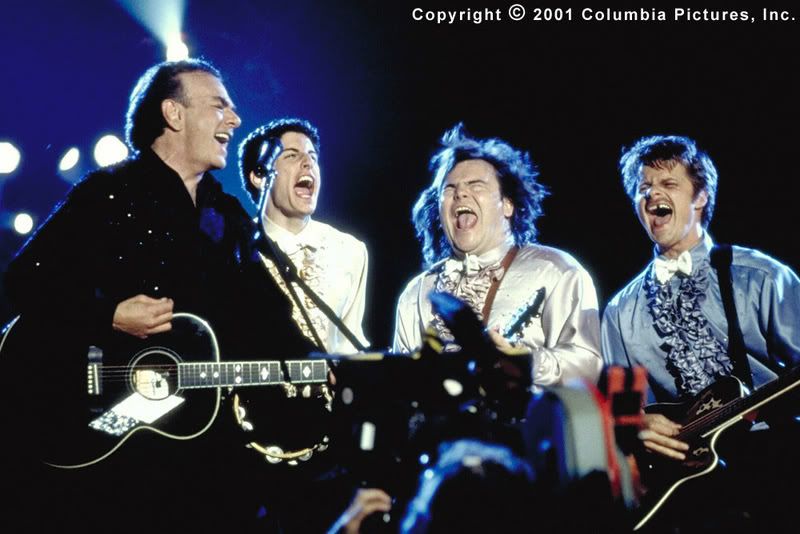 Am I the only one who thinks this could be either terrific or utterly horrendous? I wonder if any of the contestants is a Neil Diamond fan. Like,
Saving Silverman
Neil Diamond Fan. Somehow, I think not. Well, Maybe
David Archuleta.


Let's get to it then, shall we?

Ryan wastes no time in reminded viewers that we all failed

Carly Smithson

. She's probably watching from home with a pint of Ben & Jerry's (it was free cone day, after all).

Oh, joy, everyone is singing not one, but two - yes, two - Neil Diamond songs. Couldn't they have done one Neil Diamond song, and one song of their choice? That would have been nice. Apparently, we are only going to hear judges critiques after the second song. I will make my
comments in the order I hear the songs.


Jason Castro

(Song 1:

Forever in Blue Jeans

): The guitar seemed kind of weak in the begining of the song, and the low register of the song is a little low for

Jason

, but I really liked the way that he sounded on the higher register. I wish he would stop squinting through songs. I think that

Jason

wouldn't know what the heck to do with himself if he wasn't holding a guitar. I don't think he needed it with this song, but he did a pretty good job. He is very pleasant, and I think he would do well on the radio. Is pleasant enough? Not sure. He's like warm milk before bedtime.


David Cook

(Song 1:

I'm Alive

) -

David

decided to interview Seacrest for a moment, and we learn that Seacrest listened to a lot of Neil Diamond as a child in the back of a station wagon. Interesting. Now onto his first song. I have never heard it before, but it is cool. I think that

David

found the right place to use as his low range boundary with this song, and he is rocking it more than he has in a couple of weeks. The song seemed really really short, I wish it had been
longer. That's a good thing. I likey



Brooke White

(Song 1:

I'm a Believer

) -

Brooke

is trying too hard to have fun, she's got a forced bounce, and her guitar playing was unnecessary. She looks terrified, and panicky. I thought her vocals were rough and shaky. Paula apparently liked it, she was dancing, but I didn't love it. It wasn't terrible, but I wish I hadn't been watching her. She made some seriously strange faces.



David Archuleta

(Song 1:

Sweet Caroline

) Leave it to

David A.

to pick the two absolutely cheesiest songs in the whole Neil Diamond catalogue. At least he is singing something a little upbeat. It's been weeks and weeks and weeks. Somehow he's made

Sweet Caroline

into a gospel Christian Rock song, like he does with every song. And his voice is so so so froggy. Ugh. I am so done with him.



Syesha Mercado

(Song 1:

Hello Again

)

Syesha

got extensions for the occasion. I like her better with shorter spunky hair. Her vocals are totally impressive, she just doesn't feel unique. She did a really good performance of this song. I like her more than

David A

, at least she's got a purely nice voice. The last note was nice.

(Can I just comment that it was hilarious that Paula read her comments for both songs? Must have been comments from the dress rehearsal. Ryan's face was priceless. I was glad that Simon called

Brooke

a nightmare, because she was)



Jason Castro
(Song 2:

September Morn) -

Total elevator music, I am so bored right now. The end was really bad. I think a poor choice of song. It was painful. He is in serious trouble after that.



David Cook
(Song 2:

All I Really Need is You

)
-

A softer side of

David Cook

, and it's still good.
He knows how to use his voice, and this rocks out into almost a Power Ballad. I want him to win so much, because he is the only one I would like to hear for an extended period of time. He hit some really nice falsetto notes, and I thought it was fantastic. Go

David

. I was glad that he got a lot of judge praise.

Brooke White
(Song 2:

I Am I Said

) - This is much much better. She is much more at home behind a piano. This is not painful, this I could enjoy on the radio. Does

Brooke

have to be sitting down and half hidden to be decent? She redeemed herself a lot with this one. Her outfit is absofreaking-70's-lutely awful, but I can forgive her.

David Archuleta

(Song 2:

America

) - I wish that

David Cook
had sung this song. It would have felt more authentic. Can

David A

. perform in any way except for standing stridently in the middle of the stage and bouncing a little? He implores us to like him, reaching out his hand with desperation towards us. I decline his invitation. I wish

David Cook

had sung this song. At least it wasn't slow and plodding. And when he is done, he just stands there with the same look and the same expression every week. Every week. I said it before, I am so done with him. I almost wish he would have a moment like Clay had when he came out in the red leather pants. Almost. It might be too disturbing, though. Just remember, America. If you don't vote for David A, you are just downright unpatriotic. That's right. Remember when Kristy stirred all sorts of patriotism? Same here. Got it?



Syesha Mercado
(Song 2:

Thank the Lord for the Nighttime

)

- What fun. I think this was a very wise choice for

Syesha,

but why in the name of all things sacred do they not turn down the backup singer's microphones? Seriously? It's so annoying, and it's been like this the whole season.

Syesha

did a really great job with that song, and showed her versatility. She had fun, and she showed some real personality. I do think that Simon hit the nail on the head when he said that she is a talented actress/singer

My favorites tonight are

David Cook

(miles above the rest) and

Syesha

.

Jason

and

Brooke

are in trouble, and I think that

David Archuleta

could be in the middle. He'll probably get the most votes, just because. First round,

Brooke

definitely sucked the most, and then in the second round,

Jason

was the worst. (I am not even mentioning

David Archuleta

, because he is sadly not going anywhere).

I kind of liked the lack of fluff in the show tonight. I know it won't last, but it was refreshing for a change. I am so pleasantly surprised that I might just put

Saving Silverman

on my Netflix queue. Thank you, Neil Diamond. I take back most of the unkind thoughts I had of you.