My DVR messed up on the beginning of the show again, annoying. I dove straight into the group sing of 9 to 5.
Michael Johns
' Dolly t-shirt was a bit disturbing.
Jason Castro
mumbled a bit, but happily, followed by
Syesha
mumbling and then trilling off into a run. The judges got some love from everyone, but no one more than Simon, who practically got a lap dance by
Carly
, and he looked a bit surprised.
There was then a recap of last night, and I stand by all of my comments from last night. That is all.
Who's going to be resting on the
Sanctuary Sofas
tonight? Who is on the
Stools of
Susceptibility
?
Michael Johns
is up first, and he is safe. So is
David A.
Oh well, justice will not be served this week (in my mind).
Carly
is teased by Seacrest, but she ends up safe, too. Woot.
Let's just pretend the call in section didn't happen, ok? It was embarrassing, unnecessary, and awkward. That is all.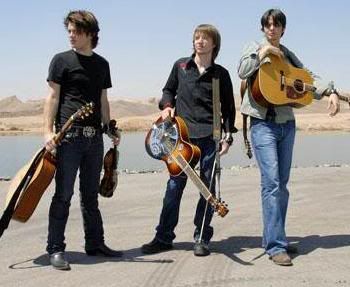 Next is a performance by The Clark Brothers, from the underwatched
The Next Great American Band.
I admit to watching some episodes of the show, but it was on at an awkward time, so didn't watch it religiously (and I was already dvring two other things that conflicted with it). The few times I watched it, I enjoyed The Clark Brothers. I am happy that they won. I wish that the lead singer would get his bangs out of his eyes, I kept blinking looking at him, feeling the offending hair in my own eyes. There was some mighty impressive instrumental work there!
Straight into the Ford Commercial, which was a strange choice for song, although I hesitate to call that rap a song for the contestants to sing. They all got to pretend to play basketball, though, which looked like fun. Not my favorite Ford Ad.
Next up is David Cook, and Ryan addressed the rumors that he had gone to the hospital, and he says he is fine, he just has high blood pressure. That's good to hear. He will sing another week, he's safe.
Ramiele goes next, and is the first to end up on the Stools. Kristy is next, in another shimmery shirt, complete with a note that reads "Kristy's Seat" for what she sees as her inevitable place in the bottom 3, and she is correct, over she goes.
Before we find out the fate of the final three, there's a segment showing the previous American Idol contestants who have ended up in Nashville. Can I just say that Phil Stacey looks a whole lot less like Nosferatu with facial hair? It's good for him.
And it's Bo! I love Bo. I miss Bo. I had no idea that Bo had
another album
. I think I need it.
Syesha will stay to bore us for another week, and the final spot on the Stools is between
Brooke
and
Jason
. I think unfairly, it's
Brooke
in the Bottom 3, and she starts to the stools, only to be stopped by Ryan (has she not seen the show up to this point? The third person never goes to the Stools, at least night right off). It's kind of an amusing Ramiele sandwich between the two tall blondes.
After a break, the bottom 3 are seated temporarily on the couch, so that Dolly can sing, but first we have a plug for Idol Gives Back. It really is heartwarming to see what good has been done. I hope that the producers didn't stage the reunion of the sisters. It was really sweet. I think Brooke was crying when they cut back from it.
I did not much enjoy Dolly's song, it was a little too
Jesus Take the Wheel
for me. Still, she's impressive, given her age. She looks fantastic.
The Bottom 3 huddle together looking terrified.
Brooke
just really talks too much sometimes. I'm sure Ryan didn't want to hear
Brooke
's dissertation on sadness when he asked her if she was emotional. She is safe, as is
Kristy
, and
Ramiele
is heading home, but not before being smothered in
Kristy
's bosom. I think it was definitely her time to go home, she is just out of her depth. I wish her well.
Ramiele
is
Celebrated Home.
Have I mentioned how much I hate that song? You know the worst thing? It's a
cover!
So, not only did it suck once, but then Ruben heard it, and decided to make it suck again. Really? Who made that decision, really?
Until next week. I think
Idol Gives Back
is next week, so that'll be different.